Renewable energy is already taking hold in many parts of the country — including Texas, South Dakota, Iowa, North Carolina, and New Hampshire. New Jersey, however, has fallen from number three to number six in solar installations as other states have moved ahead more rapidly.
According to energy experts, New Jersey has great potential to develop wind energy off our coast, and create many jobs in the process. Unfortunately, state decision makers have stalled plans, delaying the opportunity for New Jersey to be a leader on offshore wind energy.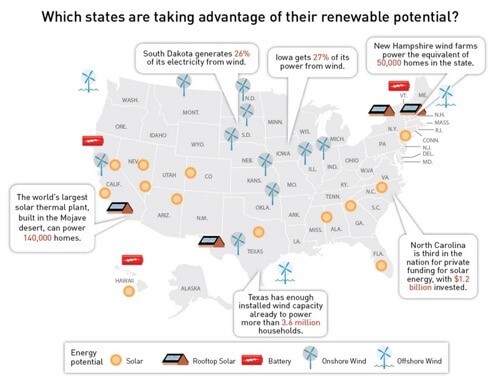 ClearPath Foundation. (n.d.). National Renewable Energy Laboratory, Energy Information Agency, BrightSource, Interstate Renewable Energy Council, American Wind Energy Association Cited in Every State Has Clean Energy.