What Is PennEast?
The PennEast Pipeline Company, LLC, proposes to construct a 118-mile natural gas pipeline from Pennsylvania through towns in Mercer and Hunterdon counties in New Jersey.
PennEast is a partnership that includes the following companies:
NJR Pipeline Company, an affiliate of New Jersey Natural Gas (NJNG);
SJI Midstream LLC, an affiliate of South Jersey Gas and Elizabethtown Gas;
UGI Energy Services; and
Enbridge (formerly Spectra Energy).
The PennEast pipeline would threaten the health and safety of our communities, private landowners, taxpayer-preserved open space, our drinking water, and significant natural and historic resources.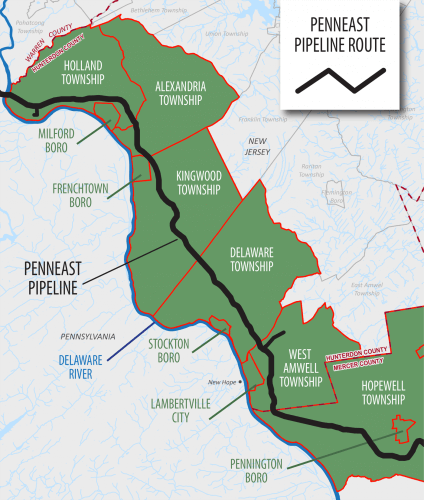 PennEast Isn't Needed
The proposed PennEast pipeline has been described as "a solution in search of a problem." Data and analysis show the pipeline isn't necessary to meet demand, reduce natural gas prices, or ensure a reliable, low-cost transition to a clean energy future.
Crossing the Delaware River and more than 4,300 acres of preserved lands in New Jersey, the pipeline will threaten significant natural and historic resources. It would damage scores of pristine, protected streams and jeopardize populations of threatened and endangered species such as long-tailed salamanders.
PennEast would bring an additional one billion cubic feet per day of fracked gas into Hunterdon and Mercer counties, adding to at least 1.3 billion cubic feet of excess capacity already serving New Jersey's needs. The project would condemn nearly 150 private properties and public open spaces, all for a project that New Jersey's utility consumer watchdog called "unneeded" and "unfair to ratepayers" who would foot the bill.
New Jersey currently has substantial excess pipeline capacity to meet its needs — even during extreme cold periods — and PennEast would add to this capacity unnecessarily. By creating a further glut in capacity, PennEast would increase costs to New Jersey consumers by $180 million to $280 million per year.
PennEast is opposed by every New Jersey municipality in its path, as well as many federal, state, and local elected officials. PennEast significantly overstated the number of total jobs it would create "by approximately two-thirds or more," one study found.
A recent economic impact analysis presented to the New Jersey Conservation Foundation found that the number of jobs PennEast claims its pipeline would create was significantly overstated. The report also noted that "half or more" of the jobs would go to workers who live outside New Jersey and Pennsylvania, and only 10 permanent jobs would be created in New Jersey.