Tell the companies behind PennEast to STOP THEIR PIPELINE!
Call and read the letter at the bottom of this page to: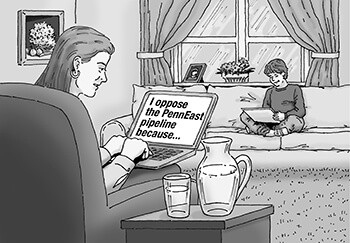 South Jersey Gas – Customer Service: (609) 561-9000
New Jersey Natural Gas – Customer Service: (732) 938-1000
Elizabethtown Gas – Customer Service: (800) 242-5830
AND
Send a letter*:
---
Thank you for making your voice heard! Together, we can STOP PENNEAST!
Want to take further action?  Send a letter to FERC, the federal agency reviewing PennEast's application, to tell them to STOP the PennEast pipeline.
*Your letter will automatically be sent to the CEOs and the Customer Service teams of PSE&G, SJG, and NJNG and Elizabethtown Gas.
By submitting your letter, you agree to receive periodic communications from ReThink Energy NJ.