Thanks to our efforts and the many of you who contacted your State Senators, amendments to the Global Warming Response Act (GWRA) were passed in the Senate last week that will require the state to take the steps necessary to reduce emissions and combat the urgent threat of climate change. We need your continued support to make sure the amendments to the GWRA are passed in the Assembly and signed into law.
Take Action! Donate today to the ReThink Energy NJ campaign to make the state we call home safer, healthier, and a leader in clean energy. Your generous donations make the work of ReThink Energy NJ possible.

Our newly redesigned website features an interactive map that allows you to view the proliferation of pipelines in New Jersey and filter through the existing and proposed projects.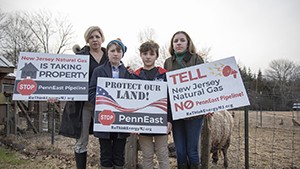 "My mom works so hard for our family and our farm. It's important to us and we have so many memories here. It shouldn't be taken away for something that would only put us in danger." -Wyn Evans