A look at the latest news, facts and figures on fossil fuels, pipelines, renewable energy, energy efficiency and progress on stopping the PennEast pipeline. 
In the News
PennEast Protesters Rip Up Easement Offers
Watch: N.J. PennEast Protesters Rip Up Easement Offers
– The Times of Trenton – Sallie Graziano
DELAWARE TWP. — Standing in a snow-covered field on one of the first farms preserved in New Jersey, area residents opposed to the PennEast Pipeline project ripped up easement offers they've received from the company, stuffing the pieces into a symbolic pipe marked "junk mail." Read more
Additional news stories on landowners' rip up easement offer gathering:
NJ Pipeline News
HALT PennEast
Impacted homeowners unite; form group and speak out to stop PennEast pipeline from being approved and constructed.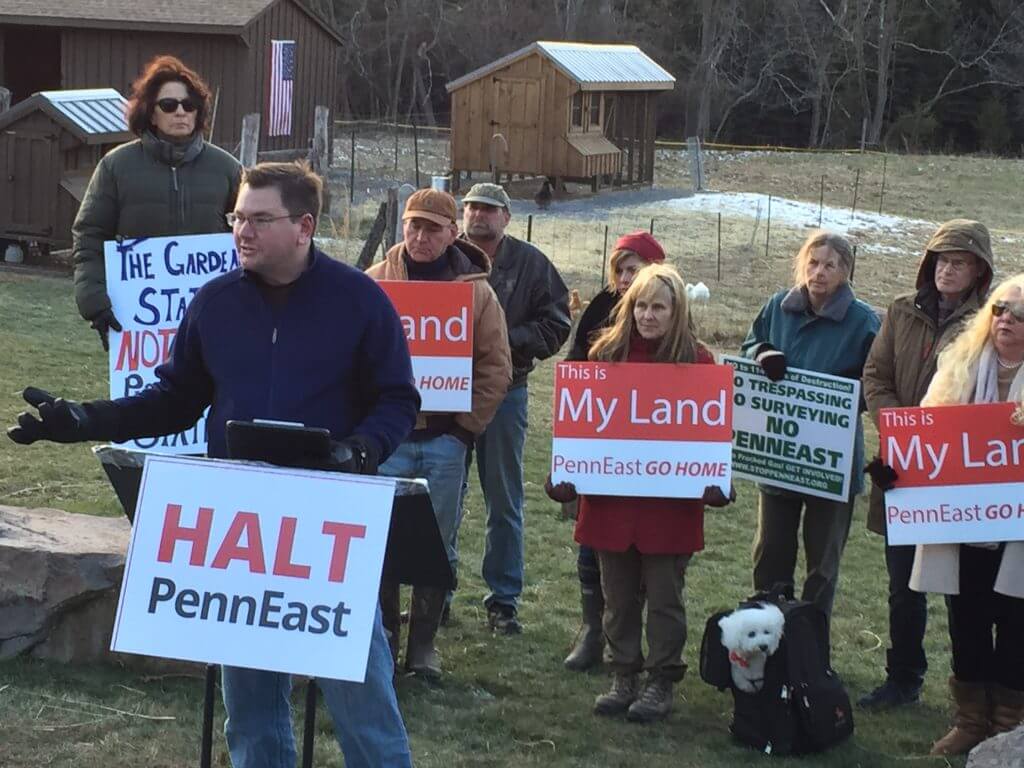 News Stories on HALT PennEast:
In Other New Jersey Pipeline News
New Jersey Board of Public Utilities advances another New Jersey pipeline; 30-mile project by New Jersey Natural Gas would travel through a portion of the Pinelands. Read here.
 Federal and state lawmakers join impacted residents and environmental groups in calling to suspend review of the proposed PennEast pipeline before Federal Energy Regulatory Commission; challenge unanswered questions and inaccuracies. Read here.                                                                                                                              
Conservation groups oppose industry attempt to weaken pipeline reviews — testify at congressional hearing on aerial surveying. Read here. 
Renewables
New Jersey Senate resurrects and passes new bill, which was previously vetoed by Governor, on Atlantic City offshore wind demonstration project; bill now on its way to lower house for consideration. Read here.
In Other Renewable Energy News
"Neighborhood Solar Energy Investment Program" clears assembly committee; would provide credits to consumers who participate in solar energy programs; measure now needs to be considered by the full Assembly. Read more.
New Jersey is positioned to be a leader in wind energy, according to a recent report by the Environment New Jersey Policy and Research Center. Read more.
By the Numbers
When you look at the numbers, it's easy to see that PennEast pipeline is unneeded!
Over 4,300 Acres
The amount of preserved land and farmland that the PennEast pipeline will cut through in New Jersey.
1 billion cubic feet
The amount of gas, per day, that PennEast pipeline would pump though its high-pressure pipeline.
53%
The surplus percentage beyond current demand of natural gas that the PennEast pipeline would bring to the region.
64%
The amount of gas that New Jersey already exports out of the state.
Sign up to receive bi-weekly updates from ReThink Energy NJ: