A look at the latest news, facts and figures on fossil fuels, pipelines, renewable energy, energy efficiency and progress on stopping the PennEast pipeline. 
In the News
PennEast Pipeline Delayed; FERC Timeline Sets Project Back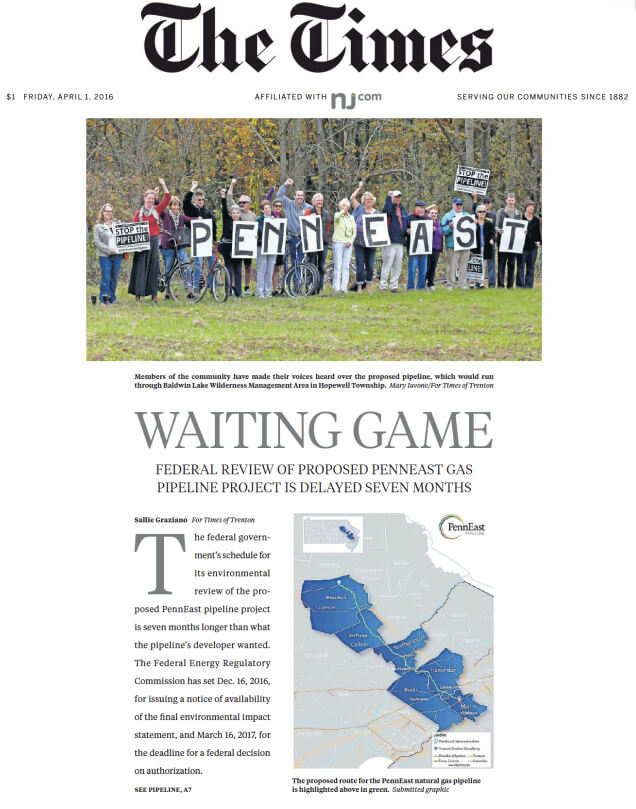 FERC Timeline Sets Project Back By at Least 7 Months as PennEast Fails Again to Provide Critical Information
STOCKTON, NJ, (March 31, 2016) – A timeline just released by the Federal Energy Regulatory Commission (FERC) sets back the possible FERC approval of the PennEast pipeline by at least seven months, according to Tom Gilbert, campaign director, ReThink Energy NJ and New Jersey Conservation Foundation.
FERC's timeline indicates that a final Environmental Impact Statement will be completed by December of 2016, with a final decision by March, 2017. But PennEast's application to FERC requested a final decision by August of 2016.
"Clearly, PennEast's lack of responsiveness to FERC's request for critical information has caused the project to be significantly delayed," Gilbert said. "We are renewing our call to FERC to protect the integrity of its review process and the public interest by not allowing this incomplete and grossly inaccurate application to proceed." Read more.
News stories on PennEast Delay:
More NJ Pipeline News
By Briana Vannozzi
Correspondent
It's getting harder and harder for the lay person to keep track of the proposed, pending and approved pipelines in New Jersey. That's partially because there's already 1,800 miles of existing pipeline projects, with another 12 proposals waiting in the wings. Most recently approved, the New Jersey Natural Gas pipeline, known as the Southern Reliability Project. It'll start in Bordentown and Chesterfield, going through a portion of the Pinelands, ending in Manchester Township.
"The fundamental problem is this pipeline is unnecessary and the BPU is functioning as a rubber stamp for these projects," said Pinelands Preservation Alliance Executive Director Carleton Montgomery. Read more
In Other Pipeline News
Renewables
By Pay Johnson, TheSandPaper.net
Fishermen's Energy, a consortium of South Jersey commercial fisheries that formed a wind power company to influence where such farms on the ocean can locate — away from important fishing and ocean scalloping grounds – has sought for six years to set up a demonstration wind farm 2.8 nautical miles off Atlantic City. Its plan for six wind turbines, producing 24 megawatts of electricity, has the backing of the New Jersey Legislature, environmental groups including the Sierra Club and the federal Department of Energy, and it obtained permits from state and local entities.
The only roadblock has been the New Jersey Board of Public Utilities. The BPU must issue a wind renewable energy certificate, a funding mechanism for the proposed project, before the small wind farm can move forward. The BPU has said in the past that the project would be too costly for ratepayers to support. Fishermen's Energy has always denied that claim, stating the BPU had come to a faulty conclusion through faulty mathematics. Read more
In Other Renewable Energy News
By the Numbers
Renewables, excluding large hydro, still represent a small minority of the world's total installed power capacity (about one-sixth, or 16.2%) but that figure continues to climb (up from 15.2% in 2014). Meanwhile actual electricity generated by those renewables was 10.3% of global generation in 2015 (up from 9.1% in 2014).                
"Despite the ambitious signals from COP 21 in Paris and the growing capacity of new installed renewable energy, there is still a long way to go," said Prof. Dr. Udo Steffens, President of the Frankfurt School of Finance & Management.                        
"…Without further policy interventions, climate altering emissions of carbon dioxide will increase for at least another decade."  (Excerpt from unepfi.org press release)
$286 Billion
Amount invested worldwide in renewables last year – 2015; a world record
$156 Million
Portion invested of 2015 spend by developing countries (up 19% over previous year)

$130 Billion
Portion invested of 2015 spend by developed countries (down 8% over previous year)
$2.3 Trillion
Amount invested worldwide in renewables since 2004 (unadjusted for inflation)
Sign up to receive bi-weekly updates from ReThink Energy NJ: