A look at the latest news, facts and figures on fossil fuels, pipelines, renewable energy, energy efficiency and progress on stopping the PennEast pipeline. 
In the News
By Keith Brown, NJ.com 
Several state and local officials were joined on the Statehouse steps Tuesday by about 35 environmentalists and opponents of the proposed $1.2 billion PennEast pipeline, announcing the collection of 9,000 signatures on a petition opposing the natural gas project.
Several elected leaders, including state Assemblyman Andrew Zwicker (D-16th Dist.), plan to travel to Washington, D.C. on Wednesday to deliver the petition to the Federal Energy Regulatory Commission, which is reviewing the pipeline application and has final say over whether it can be built. Read more.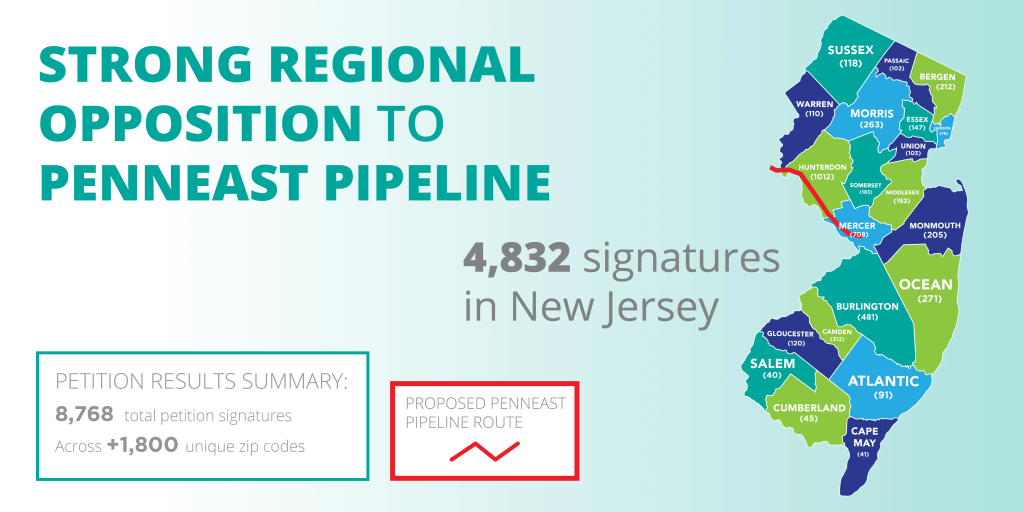 In Other Pipeline News
By Keith Brown, NJ.com
Seven residents in Mercer and Hunterdon counties whose property is in the path of the proposed $1.2 billion PennEast pipeline on Monday filed a lawsuit against the company claiming PennEast has been illegally surveying their property without permission. Read more.
Renewables
By Michael Biesecker, New Jersey Herald
If there's a War on Coal, it's increasingly clear which side is winning. 
Wind turbines and solar panels accounted for more than two-thirds of all new electric generation capacity added to the nation's grid in 2015, according to a recent analysis by the U.S. Department of Energy. The remaining third was largely new power plants fueled by natural gas, which has become cheap and plentiful as a result of hydraulic fracturing.
It was the second straight year U.S. investment in renewable energy projects has outpaced that of fossil fuels. Robust growth is once again predicted for this year. Read more.
In Other Renewable Energy News
By the Numbers
250,000
Tons of ethane, a toxic gas and air pollutant, emitted by a single fracking site in the mid-West, equalling about 2 percent of the total ethane produced worldwide.
Source: The Independent

350,000
Number of children who live within a mile of an oil or gas well in the U.S.
Source: Desmogblog

25 times
The amount that methane, a key component of natural gas, is more effective at trapping heat than carbon dioxide.
Source: U.S. News & World Report


Sign up to receive bi-weekly updates from ReThink Energy NJ: