Ask Gov. Murphy to Continue His Leadership on Clean Energy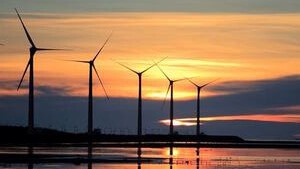 On May 23rd, Governor Murphy signed a landmark clean energy bill that requires 50% renewable energy by 2030. He also announced an executive order directing the New Jersey Board of Public Utilities to develop a plan to achieve 100% clean energy by 2050.
The governor was a driving force behind the bill and has already started promoting offshore wind, ending years of delay.
Send a letter to Gov. Murphy, thanking him for his strong leadership on clean energy, and urging him to stop the proposed PennEast gas pipeline from polluting our air and water, and undermining his goal to move New Jersey to 100% clean energy.
Fill in the letter below.* 
---
Thank you for making your voice heard. Click here to share this letter on Twitter. Together, we can build cleaner, healthier, safer energy for New Jersey, not more fossil fuel pipelines.
*Your letter will automatically be sent to Gov. Murphy and his team.
ReThink Energy NJ is a campaign supporting a rapid transition away from reliance on fossil fuels and pipelines, to clean, efficient, renewable energy like wind and solar. By submitting your letter, you agree to receive periodic communications from ReThink Energy NJ.