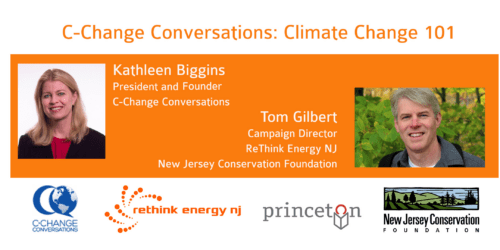 Thank you for participating in C-Change Conversations: Climate Change 101, Part I of the online series The Climate Crisis, Clean Energy, and New Jersey's Leadership. Stay tuned for an announcement on the next presentation in the series soon.
For the latest updates on clean energy in New Jersey and ways to take action, sign up for the ReThink Energy NJ email list at the top-right corner of this page, or subscribe here, and connect with us on social media on Twitter and Facebook: @rethinkenergynj.
To learn more about Princeton Public Library and the programs they offer, visit princetonlibrary.org and follow on Twitter and Instagram @princetonpl.
Learn more about how C-Change Conversations facilitates productive, non-partisan discussion about the science and effects of climate change at c-changeconversations.org. Connect with them on Facebook @CChangeConversations and on Instagram @ccconversations.
The mission of New Jersey Conservation Foundation is to preserve land and natural resources throughout New Jersey for the benefit of all. Visit njconservation.org and connect with them on Facebook @NJConservation and on Twitter @ConserveNJ.